It was late fall 2021, and the AboveBoard team had a lot to celebrate.
Just over a year since launch we'd successfully built a platform for inclusive executive hiring, grew a membership of over 17,000 senior executives, signed 30 clients, listed hundreds of exclusive senior operating and board opportunities, resulting in almost two thousand "matches" – executives added into ongoing searches by their headhunters.
We were just getting started fulfilling our mission to change the face of corporate leadership to be more representative of the population by making executive hiring more transparent. And we knew it was time to gather AboveBoard's entirely remote team in-person to celebrate, bond, and plan our next steps.
As a four-time founder, this was hardly my first rodeo, and yet I was nervous. The team was gathering in-person for the first time. We'd all been working at home, solo, since the beginning. We're a diverse group: 66% of us are women, 39% are Black, 17% are Hispanic/Latinx, and 33% are LGBTQ+. Some of us have been in the workforce for a long time while others are just starting their careers.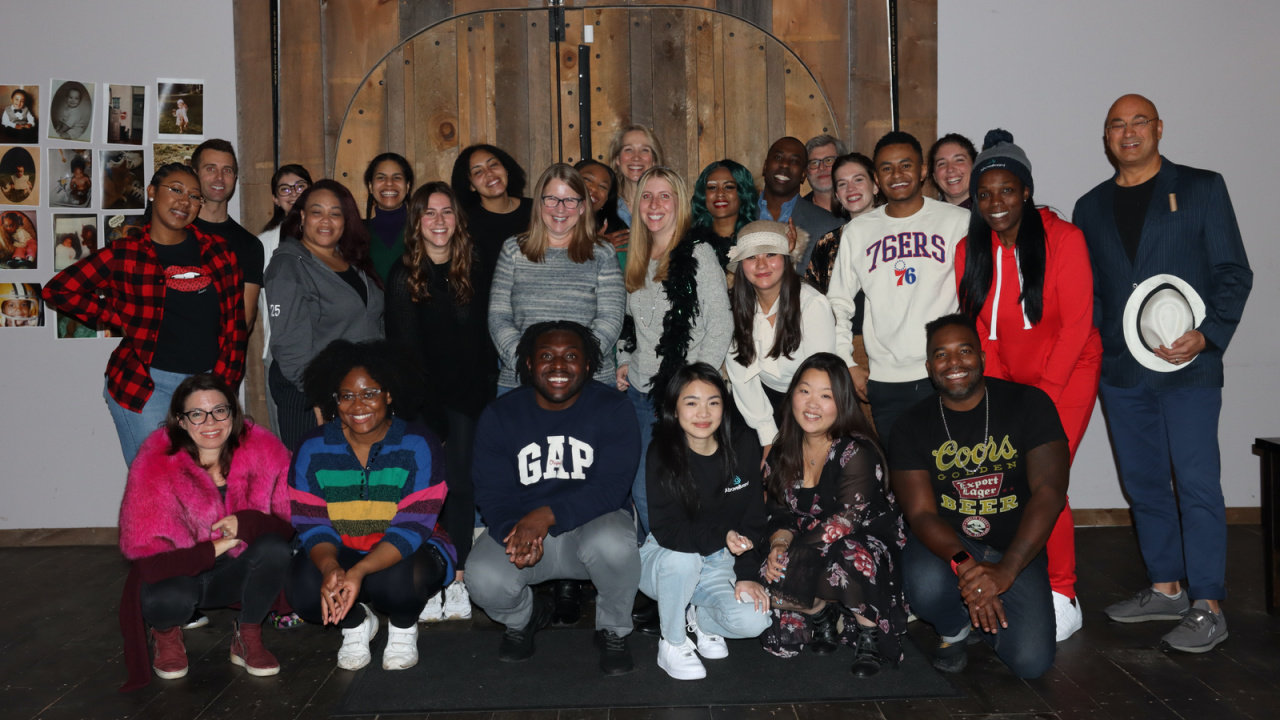 In the weeks leading up to the meeting, I worried about how our 56 hours together at a cheesy AirBnb castle in the Poconos would go. Would 27 people be excited about bowling and miniature golfing in the "dungeon?" How would we manage myriad food allergies where there were no grocery stores nearby? And most of us are introverts!
I'll admit, I was curious how our diverse team would find common ground.
I needn't have worried. The organizational culture we've built online over the past two years naturally transformed into an in-person community. In fact, it was amazing.
And here's why it worked: we all share the company's values.
One of our group exercises involved posting our company values up on the wall and inviting the team to jot on Post-Its examples of how each colleague embodied that value. In 30 minutes, the room was wallpapered with call-outs of individual actions each team member took that reflected one, or more of our 5 values:
Diversity, Equity, and Inclusion: We're building a diverse team and ensuring that everyone is genuinely included in the flow of power. And, of course, our mission is to reshape the global executive workforce to be representative of the population which will create lasting, meaningful change.


Courage: Both internally and externally we have to talk about issues that make people uncomfortable: racism, sexism, equity, bias, and more. It takes courage to have those conversations. Part of our organizational culture is a safe space for anyone to talk about anything—what we call "candid conversations." Amidst games of

HORSE

(where I, a former collegiate basketball player, got my butt kicked), and

The Marshmallow Challenge,

we also gathered to talk about hard things, like race, gender, hierarchy, and the true meaning of equity.


Impact: We believe that what you do every day should create positive change in every direction, or what's the point? This is the North Star of our values.


No Dis-empowerment: Every team member has agency to create change in the company. Empowerment fuels our impact. For example, it was our Chief of Staff who came up with a way to use LinkedIn to help us scale. Then our marketing team took it and turned it into a repeatable tactic we can use to drive growth.


Openness: We're about opening up the process of executive hiring, bringing sunlight to the cigar smoke filled back rooms. We share our thoughts and we're open to others'.
At the end of the values activity, the multi-colored Post-Its were taken down and given to each team member—a tangible reminder of how they'd helped to build the company's foundation by living our values each day.