It's no secret that traditional executive search and hiring is an exclusive process.
Historically, this process has left out countless candidates who would otherwise be qualified for these often unlisted leadership roles.
AboveBoard is on a mission to shed light on these exclusionary recruiting practices and make board and senior leadership roles accessible to underrepresented executive groups—including Black, Latinx/Hispanic, and women executives. With 18,000 members, we're just getting started.
Lucinda Duncalfe, CEO, and Founder of AboveBoard, is excited to see the company grow and remove barriers to executive search and hiring, "We launched AboveBoard last October with a vision of bringing together an empowered, diverse group of executives to change the face of leadership. Today that group is 18,000 strong! We are grateful for and energized by each member's participation in our movement. We invite you to explore membership at AboveBoard!"
The current system is broken
Often, board roles and senior executive positions aren't listed on a company's website or on third-party sites like LinkedIn or Indeed. Instead, companies tend to hire executive recruiters, for senior roles — or the position is first made available to the current leadership's network. This inevitably leaves out a lot of qualified talent.
When executive hiring is limited to only these avenues, it can result in a company culture of exclusion and a potentially homogeneous workforce. Executive leadership opportunities shouldn't only exist for a select few. This perpetuates a broken system that was not built for everyone. When companies work to grow and expand their executive search and hiring practices, they are setting the foundation of an equitable and inclusive company culture from the top-down.
How AboveBoard works
AboveBoard exists to break those traditional barriers of executive hiring. We're here to help people connect with executive-level opportunities around the globe.
AboveBoard is a job search and hiring platform exclusively for board and executive level roles. Our company partners have chosen to work with AboveBoard because they know the current executive hiring system is broken. More than 1,300 companies have worked with us to list and share their open executive opportunities with a diverse and broad range of qualified applicants.
Because of these strong partnerships, AboveBoard members trust us to help them discover a wide range of executive job opportunities. Members are invited to create a profile and connect with companies via the platform — then either party can choose to move the conversation forward.
This model breaks the current inequitable system of executive hiring and empowers qualified candidates to find roles and opportunities that match their experience and skills.
A more equitable future
Take a peek behind the curtain of executive hiring and you'll find that Latinx/Hispanic, women, and Black communities are underrepresented in executive searches and therefore often left out of opportunities — even when they are highly qualified for the position.
Moving forward, an equitable future in senior leadership positions starts with a company's and their leaders' investment in changing the status quo. AboveBoard is here to offer a solution to dismantle our current system and build an executive search and hiring platform that works for everyone.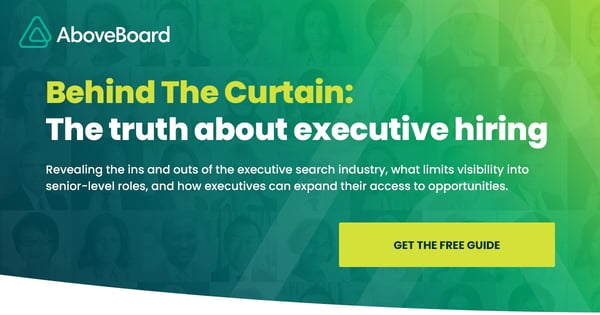 To dive deeper into the data of why this is and how we're working to solve it, download our latest guide Behind The Curtain: The Truth About Executive Hiring.